Portrait wamag | Walker Management AG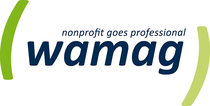 wamag | Walker Management AG
Stadthof
Bahnhofstrasse 7b
6210 Sursee
Tel. +41 (0)41 926 07 70
S E R V I C E S 
Management
wamag provides comprehensive external business and secretarial management services for Non-profit organizations (including outsourcing contract management systems).
Business and secretarial management contracts are individually tailor-made to client requirements, and we can operate both comprehensive and partially-managed solutions.
Consulting
wamag provides private individuals and companies with support in the execution of their business activities.
We have a demonstrated know-how and many years of experience in the areas of consulting, coaching, analysis, conception, pratical realization, project management and corporate development.
Communication
wamag develops and implements all elements of internal and external communications.
Our specialists in publishing, editing, layout and advertising space buying ensure that your communications reach their onjectives successfully.
Services
To ensure the competent implementation of your missions:
We employ qualified NPO-managers, lawyers, communications and training specialists, editors, economists and multi-lingual secretarial staff.
We provide contract managers with 20 years experience, documented know-how in association management and a network of internal and external specialists.
Our systems conform to ISO standards 9001/2000.
Our offices are conveniently located in central Switzerland.